Her Interactive
is an electronic game developer and publisher lo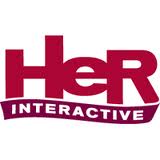 cated in Bellevue, Washington, United States. Their games are geared towards young and teenage girls.
The company, which was spun off from American Laser Games in 1995, is best known for their popular Nancy Drew adventure-mystery game series. The company currently employs 25 people and is led by Megan Gaiser, President and CEO.
Her Interactive's electronic games have received 35 Best Software awards from Parents' Choice Foundation, iParenting Media, Children's Software Revue, National Parenting Center, and Good Housekeeping.
List of Games
Edit
Nancy Drew AdventureEdit
Nancy Drew DossierEdit
Nancy Drew Mobile MysteriesEdit
Shadow Ranch (iPad/iPhone/iPod Touch 2011)
Other Releases from Her InteractiveEdit
The Vampire Diaries (PC 1995)
McKenzie & Co. (PC 1995)
The Cody Capers: Cody Pops the Case (PC 2007)
The Hardy Boys: Treasure on the Tracks (Nintendo DS 2009)
Ad blocker interference detected!
Wikia is a free-to-use site that makes money from advertising. We have a modified experience for viewers using ad blockers

Wikia is not accessible if you've made further modifications. Remove the custom ad blocker rule(s) and the page will load as expected.